The ceremony took place at the Enginuity Museum of Iron in the beautiful Boardroom, where guests gathered from far and wide. Danny's three best men did a great job keeping him calm and collected before the moment of truth, and the room just lit up with smiles as Alison walked down the aisle on the arm of her best friend (and driver for the day!). The ceremony was a beautiful informal affair full of humor, Shakespeare, a smattering of tears, and probably the longest first smooch I've ever seen! They were showered with confetti as they made their way out onto the courtyard, and we just about managed to squeeze in a few photographs on the Iron Bridge where Danny proposed just before the Winter sun disappeared for the day, and a few cheeky shots of the mad wedding party of course who did a sterling job posing in sub zero temperatures!

The Hinton's guests enjoyed a brilliantly fun candle and fairy-lit reception at The Malthouse, a venue the couple frequent regularly to watch local bands, and they dined on a delicious hot buffet which included the cutest tiny little brioche bun burgers and chips, which warmed everyone up from the freezing cold. They were subject to some really naughty but hilarious speeches, way too many tequila shots, and finally dancing the night away to the sounds of the band.
Powered by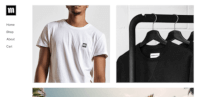 Create your own unique website with customizable templates.